Welcome to Sun Town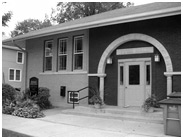 The small town of Bristol, Indiana is in Elkhart County, Washington Township, a few miles from the Indiana and Michigan border. Population in the 2010 census was 1,602.
The Town Council, consisted of 4 members elected to staggered four year terms, meets the 3rd Thursday of each month at 7pm at the Town Hall, 303 E.Vistula Street. There is a work session, usually held the 3rd Tuesday of each month at 7pm at the Town Hall. Both sessions are open to the public. Current Town Council Members are Floyd Lynch, President, Cathy Burke, Delbert Schrock and Ron Norman, members.
The other elected official is the Town Clerk, currently Mary Ryman, who serves a four year term. There is a Town Manager, hired by the Town Council, currently Bill Wuthrich. Both have offices in the Town Hall. The Bristol Police Department, which consists of a Town Marshal, currently Mike Swallow, and both full time and reserve officers is located in the same building as the Town Hall.
The monthly Town Council reports are posted on this site, below, following the monthly meeting.
Town Phone Numbers:
Town Manager: 574-848-4853
Town Hall/Town Clerk: 574-848-7007
Police Dept. Business: 574-848-4464
Bristol Fire Dept. Business: 574-848-4155
Bristol Wastewater Treatment Plant 574-848-7931
Bristol Town Street Dept. 574-848-4036
Washington Twp. Trustee: 574-848-7024
Did you know?
According to the 2010 Census, the Town of Bristol has 539 households and 368 families. Population density was 234.5 per square mile.




See BristolSun on Twitpic